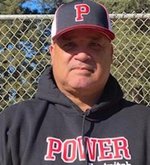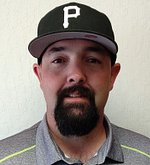 Damion Wynne-Head Coach 16U, Board Chair
I started coaching Fastpitch in 2011 when my only daughter fell in love with the game. It began as recreational hobby like any other extracurricular activity. After my daughters rapid development, we decided to set our sight on trying out for a local travel team, KG Hitters. We had a great experience with Kiko Garcia and I have been infected by this great game ever since.
After moving on from KG Hitters, I signed on to work with the CA Grapettes as a College Recruiting Liaison, marketing and profiling our athletes to college coaches. This was my introduction to building relationships with colleges. My first ever recruiting conversation took place with renown college coach, John Rittman. I was completely stoked and knew a deeper passion of the game was in me. Once I saw what this game did for a number of the Grapette players, I knew I had to be a part of this experience and game for as long as I could.
Therefore, I surrounded myself with great coaches who are of like minds and of same goal. That goal is simple, help kids get into college. In the last 3 years our coaching staff has successfully helped more than 30 athletes realize their dream of competing at the next level.
Our core beliefs for success are simple, hard work and dedication produce results; nothing given but everything earned. These are simple ingredients for life success that we teach using these principals which has clearly bared fruit with the end goal achieved, to be recruited.
After 8 years, my passion for the game is still high and my commitment to developing talent is as equally high. What excites me the most is our my our mutual philosophy and desire to get better as coaches, teachers and also students of this great game. If you want to learn more about Power FastPitch, give us a look or make an inquiry. We are here and making an impact!
Anthony Victor-Head Coach 14U
I am currently in my 18th year of coaching fastpitch softball, 15 years at the Travel Ball level which began with my involvement in a new upstart 12u Fastpitch Organization in East County. After being an Assistant Coach and working with player development, I transitioned to my first managing position of an 14u Team. Over the years, I have coached ages 12s, 14s, 16s, and 18Gold with several top programs in the Bay Area and it has taught me the experiences I use today.
My passion for the game started with my oldest daughter, coaching and teaching her the game at the age of 4 to witnessing her sign her National Letter of Intent to play in college. Besides being a great game, softball has helped mold her to woman she is today.
My passion continues with helping other young ladies pursue their dream of playing at the Collegiate level, teaching them core values such as responsibility, hard work and sacrifice that out weighs what their taught on the field. I've been fortunate enough to have coached about 75 players and see their families get to that National Signing Day.
Mike Powers-Head Coach 12U (2010)
I have been in love with the game since I was a child! I started playing baseball as a child and played for 15 years through high school, after graduating I moved on to Men's slow-pitch for 10 years where I became a Men's B player - traveling all over the country playing the game I loved. Having my children, then brought on the new phase of life.
I started coaching Fastpitch 9 years ago, after coaching baseball 5 years prior to that. I have had many successful seasons as a little league manager in regular seasons, Tournament of Champions and All Stars. In 2018 I started my own 10u travel team called the Martinez Heat because I felt I had more to offer the girls at that level as well as developing my 2 daughters properly on the path to play at the collegiate level. I have 2 daughters, a 2009 and a 2010 that play. When we realized that their development was ready to advance to the next step in their path to high school, then onto college, It was time to get involved with a program that I could gain the resources that I was lacking. They both started playing for Power in fall of 2021 with Coach Frank, where I was able to help out as an assistant coach. When the opportunity was presented to start up the new Power 12U 2010, I jumped at the opportunity. My passion for softball goes well beyond my children, As I have had the chance to be part of well over 150 players lives for the last 9 years coaching, we have made lifelong friends and I have had the opportunity to see some of the best friendships and bonds form between my children and all of the other girls I have had the privilege of coach. I have watched these girls grow tremendously throughout their lifetime on the field, from learning how to just play catch as small children to progressing into some of the best, most confident players.
I look forward to many more years to come as I continue on through 14u, 16u and 18u - Promoting player development, academics, team building, and life skills!
No goal is too hard to reach, with dedication and coaches who believe in you – Anything is possible! Hopefully one day I can be a part of the reason many girls get the chance to sign that magical letter and secure their dream, and their student athlete life - And most of all securing A spot in each and every girls life as a great coach, role model , and leader that believes in their goals and helps them achieve them, that they will remember forever!
Frank Delauter-Head Coach 12U (2009)
I love this game! I always put the team first. I coach with a blue collar menatlity-if you work hard enough you will see the reard of that hard work on the field. I love my family aand I love being a coach to help mentor players to be the best they can be. there is no "I" in team but there is a "we" in Power!